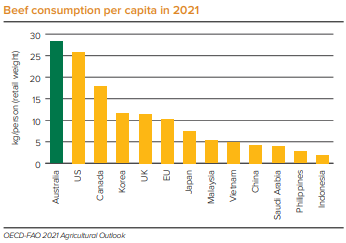 Australians have always loved a BBQ! Did you know that we love beef more than anywhere else in the world?
Australia is the largest consumer of red meat per capita in the world according to a Meat & Livestock Australia (MLA) study published in June 2022.
 The study highlighted global opportunities for the Australian beef:
Australian beef production is expected to grow in 2022 as the current restocking phase matures.
Falling American production is likely to reduce exports to South Korea, China, and Japan, opening opportunities for Australian exporters. 
Rising incomes and growing interest in beef across key Asian markets are increasing the size of markets for Australian producers and exporters.
As well as global challenges that MLA forecast for the industry
Global meat consumption growth is slowing down and
competition in existing markets will be more intense than
in the previous decade. 
Key production inputs including grain, oil and fertilizer,
are trading at very high levels and are expected to
continue to rise in price. 
Technical advancements have lowered the cost of
alternative proteins (plant-based and cultivated meats)
as consumer interest towards them grows. 
Source: Meat & Livestock Australia Global Beef and Industry Trade Report 2022