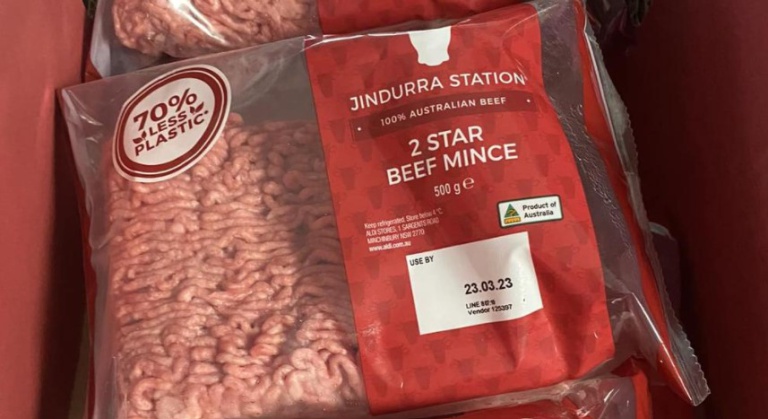 ALDI and Bindaree Food Group's Eco-Friendly Packaging Partnership:
Bindaree Food Group and ALDI Stores Australia have taken a major step towards environmental responsibility by introducing eco-friendly flow-wrap bags for their beef mince. This switch has reduced plastic usage by an impressive 70%, showcasing their commitment to sustainable practices.
The Journey Towards Eco-Friendly Packaging:
As a dedicated supplier to ALDI, Bindaree Food Group prioritises environmental responsibility. In a packaging trial, they successfully adopted eco-friendly flow-wrap bags for ALDI's beef mince, significantly reducing plastic waste.
Championing Sustainability – Joseph Hardy's Contribution:
Joseph Hardy, a skilled Food Technologist at Bindaree Food Group, played a vital role in developing the ground-breaking Flow Wrap technology. His expertise and dedication, along with the Technical team, have set a new benchmark for sustainable packaging.
ALDI's Commitment to Sustainability:
As a leading supermarket chain, ALDI consistently embraces sustainable practices. By partnering with Bindaree Food Group and adopting eco-friendly flow-wrap bags, ALDI reduces its environmental impact and leading by example for the industry.
The Impact of Eco-Friendly Packaging:
ALDI's transition to eco-friendly flow-wrap bags for beef mince has led to a remarkable 70% reduction in plastic usage. This achievement benefits the environment by decreasing plastic waste and associated carbon emissions.
Joining Forces for a Greener Future:
The collaboration between ALDI and Bindaree Food Group demonstrates that innovation and collaboration can drive significant progress in reducing plastic waste. Their joint commitment to sustainability sets a benchmark for the retail and food industry, inspiring others to follow suit and contribute to a greener future.